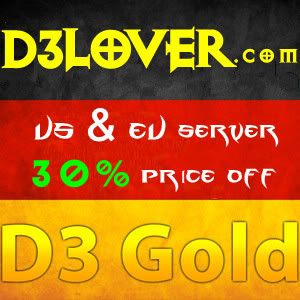 First month of the Diablo 3 release will be a great time to make to make some money.  After years of waiting the eager Diablo fans will be unleashed unto the game to play to their heart's desire.  People will schedule days off and focus on grinding their characters up to max level  ASAP and make some Diablo 3 gold. How to Sell the Most Diablo 3 Gold with the Commodity System
Gold will be a huge seller on the RMAH as well as perhaps some of the harder-to-find crafting items.  The RMAH will follow the laws of supply and demand and in the early days of Diablo 3 those forces will be easily predicted.  Low supply (no one has any) coupled with high demand (everyone wants some) will make gold a primary good on the RMAH.  Coupled with the fact that "gold sink" of Blacksmith and jeweler, currently 115K and 46K gold, the first couple of months of Diablo 3 will force players to need a lot of gold.
How to Profit From This?
First and foremost it will be incredibly important to understand exactly how the RMAH decided whose gold gets sold.  Obviously the first factor is price, when you attempt to buy 10 stacks of gold 1K each, you purchase as many as possible at the lowest price, then move on to higher pricing, cause Blizzard says so…
But what happens when there are multiple gold sales at the same price? As an example:
Todd puts up 10 stack of gold for $5 each at 9am.
Steve puts up 3 stack of gold for $5 each at 11am.
Bob puts up 20 stack of gold for $5 each at at 1pm.
John buys 20 stacks of gold.
Who gets paid?
In other words, what is the secondary attribute for deciding who makes the sale (first being the price).  Let's look at some possible examples:
Random:  The winning seller is determined by a lottery either in whole, or for every stack of gold.  Each stack being randomly chosen is an unneeded drain of computing resources on Blizzard's part, with potentially millions of these rolls conducted a day.  If it randomly selects which seller will unload all of their Diablo 3 gold, this might force the gold prices down as sellers pricing at the "going rate" can end up not selling through sheer chance, and consider dropping their prices.  Either way, this is probably not what Blizzard will do to determine the outcome.
Stack Size:  The winner is determined by the amount of stacks he has for sales, the sale being awarded to either the smallest size or the size closest to the number purchased.  This would allow people with certain information about the average stack size purchased to have a massive advantage over the average player (this can be tested for with some software and/or an excel spreadsheet).  In my personal opinion this will not be what Blizzard chooses.
Diablo 3 offers different types of items to players who defeat their enemies.Time: The simplest and the most probable selection method is time.  The person who posted earlier will get the sale and so on in chronological order.